New vehicles
If you are interested in any of the vehicles on this page please get in touch with us for further details. You can contact us using the details below.
Telephone:
01993 850 025
01993 850 714
Fax:
01993 851 521
Email:
john.lenehan@electricvehiclesuk.com
Electric Vehicle sales
CBL electric vehicles can supply new vehicles to meet your needs from electric buggies and pallet trucks to commercial vehicles.
All Electric Nissan Cabstar
The all electric Nissan Cabstar is available from new and gives excellent all round performance.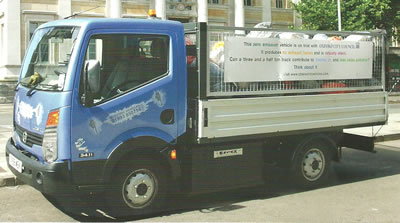 For further detailed information on the Nissan electric cabstar please view our printable fact sheet available on the following link (PDF file)
Nissan Cabstar Technical Information
Find Us
Our Services
Sale of Commercial Electric Vehicles
New & Used Commercial Electric Vehicles
Design and Build Bespoke Vehicles
Repairs
Maintenance
New Parts
Spare Parts
Vehicle Conversions
Our Services
Sale of Commercial Electric Vehicles
New & Used Commercial Electric Vehicles
Design and Build Bespoke Vehicles
Repairs
Maintenance
New Parts
Spare Parts
Vehicle Conversions